The upcoming March through June iteration of Language of Leadership's four-course Advanced Leadership Development Series is now full and at capacity. We will be taking enrollments for our next series beginning in September, 2019. Please don't hesitate to call NOW to begin discussions on the special leadership development objectives for your organization. We look forward to hearing from you. Call Now! 985-255-0032.
Language of Leadership LLC
Finding Your Voice, Empowering Change…
Attention All Seasoned and Emerging Leaders:
Advanced Leadership Development Series
Reservations to secure virtual seating throughout your organization
Now Open for Enrollment.
This dynamic Advanced Leadership Development Series from the
Language of Leadership, LLC
is limited to just 40 leaders per organization.
Exclusive Sessions / Exclusive Attention for The Singular Client listing are likely to get the best and most enduring results (40 per organization).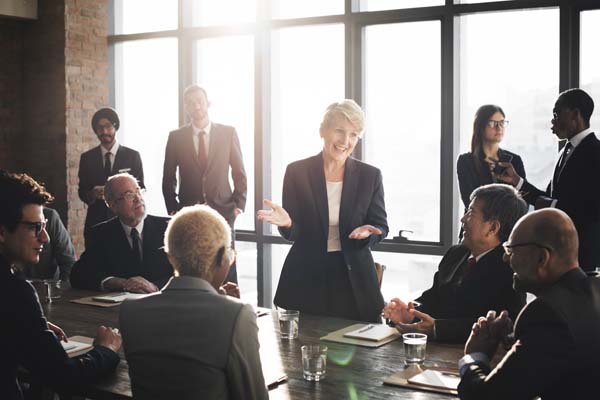 The Advanced Leadership Development Series is delivered without formal classroom engagements that excessively take people out of their productive role for several days. Instead, face-to-face dynamics are transferred and replaced with real workplace blended learning (peer to peer) through the on-the-job application assignments that are given between the live virtual learning engagements. And it is structured to be a guaranteed learning, application, and development process and not merely a transactional training engagement.
The series is comprised of four courses over the span of four months. The first half of each course is delivered in four 90-minute live virtual classroom sessions spread over two consecutive days, leaving at least five hours each day to ensure each learner's continued performance within their natural productive role at work. The second half of each course is delivered two weeks later in the same format.
Between each of these biweekly learning events are where the real application and the blended learning dynamic is leveraged. During virtual sessions, we help learners get into the information; between sessions, we make sure the information gets into them… through real practice.
Thus, the assignments aid learners in fulfilling their required responsibilities, but "by the book" via best leadership practices. Not only is the return on your training investment ensured, but a higher level of business success is also the natural by-product.
Learning Objectives
The Series Focus Will:
Get Your Individual Leaders Truly Honed-in on Their Own Personal & Professional Leadership Development
Gather Key Leaders across Your Operational Landscape to Collectively Get on the Same Page
Get the Language of Leadership along with the Action Assignments to Translate into True Organizational Leader Development
Get the Impact of New Development Immediately Reflected in next Quarterly Results
It's a development process that goes beyond content presentation to deliver practical leader-application between learning events…and, includes weekly email touchpoints with each learner to further provide one-on-one consulting, coaching, and performance support followed by live bi-weekly feedback as a group.
Here's our promise…. Your Learning Leadership Professionals will receive:
State-of-the-Art Content Filled with Timeless Principles for Best-Practice Leader Dynamics
Dedicated Space between Formal Learning Sessions Providing Practical Application through On-the-Job Assignments
Weekly Email Touchpoints to Help Stimulate Thought, Provide Individual Coaching, & Performance Support
Professional Bi-Weekly Feedback When the Group Sessions Re-Engage (Report Successes, Discuss Challenges, Find Solutions)
Continuous Tie-Backs to Prior Content Carried Holistically throughout the 4-Course Series
Combined Blended Content with Assigned On-the-Job Blended Learning between Virtual Meetings
A Learning Format That Facilitates Awareness within the Human Exchange & Dramatically Increases Desired Outcomes
Language of Leadership, LLC is not your average provider of training content. We go far beyond the simple delivery of content and class time discussions. Our senior award-winning development specialist leading this series, with 29 years of highly-seasoned experience, has worked with hundreds of clients and thousands of satisfied learners whose careers have advanced well beyond the place from which they began.
To participate in our next leadership series and development process, Register Here… Our development specialists offer training for individuals throughout the nation.